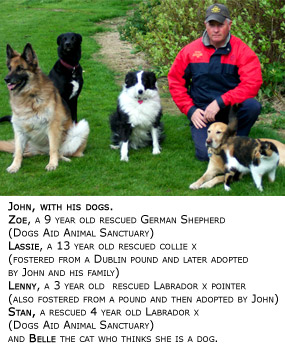 If you are looking for dog training in Dublin then you have come to the right website
John Ward, has been training puppy  and adult dogs since 1982 in a relaxed fun way.
Most people get a dog hoping it will one day become a companion the whole family can enjoy. Certainly when you envisioned going for long leisurely strolls together, you were not thinking in terms of being dragged down the street. You also did not plan on having to chase after some escape artist that will not come back when called, and you certainly were not looking for an out-of-control animal to jump all over your family or friends.
A well-behaved dog is a happy dog.
At Dublin Dog Training we teach obedience in a fun and supportive environment. We keep our classes small in order to ensure personalised attention. Our aim is to help you build a relationship with your dog, based on trust and respect.
We provide all year round training at Estuary Kennels in Swords, Co. Dublin where we have indoor obedience training and outdoor agility training.
We are very proud to have competed alongside some of the worlds best dogs and handlers. Anyone attending classes with us have instructors who have something that is rare in the dog training world and thats EXPERIENCE. Its what we stand by at Dublin Dog Training
Certified by The Dog Trainers Association of Ireland www.dtail.ie