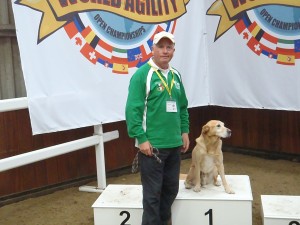 John competed at the World  Championship Agility Open in 2011 and 2012 representing the Republic of Ireland.
All our instructors have experience in competing in both Championship and Open agility competitions and have a weight of experience under their belts but most of all our agility classes are fun!
See John with his border collie Nell HERE
20/05/2021
DUE TO ONGOING GOVERNMENT RESTRICTIONS OUR AGILITY CLASSES ARE LIMITED TO 15 PEOPLE AT ANY ONE TIME.  PLEASE PHONE OR EMAIL IF YOU WOULD LIKE TO ATTEND AS OUR NORMAL HOURS MAY HAVE CHANGED
YOU MUST BE AGED 14 OR OLDER TO DO AGILITY 
Beginners Agility:
Saturday 10am – 12pm
Sunday    10am – 12pm
 Novice / Advanced
Saturday   1.30pm – 4.30pm
Sunday      1.30pm – 4.30pm
Fee: €20 per class (2 hour session).  There is no need to book, just turn up and pay as you go.  Click here for Directions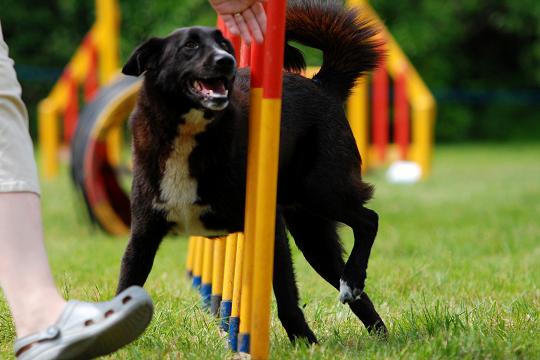 BEGINNERS – Agility for fun
Who:
For dogs and owners who have always wanted to give it a try. Agility training is suitable for all types of dog.
Focus:
This course introduces the dog to the agility equipment and eventually they become comfortable working on all the pieces.  Note: A basic level of control of your dog is advised before undertaking agility training.  If you would like to give it a try phone John 086 730 1001 or email: HERE
INTERMEDIATE/NOVICE- Agility for fun and competition
Who:
For dogs and handlers who have been trained to use obstacles at beginner standard and wish to move on to a standard where they can then enter agility competitions.
Focus:
Intermediate/Novice agility will focus on dog handling, using the equipment to the best of their advantage and course walking (stewarding at competitions is an option)  Note: It is important that dogs are fit before undertaking agility training.