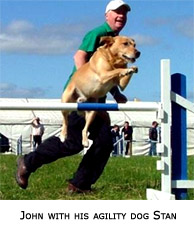 Dublin Dog training was set up in 2006 by John Ward who has 27 years experience in training dogs.
John instructed agility and obedience at the Working Trials Club of Ireland for 18 years and thats where he gained most of his experience. John attended numerous training and dog related seminars over the years and achieved judging status in 1992, since then he has judged numerous events both here, the UK and Sweden. John has also appeared on TV3's Ireland AM, Ireland's Pampered Pets, People and their Pets, The Morning Show and RTE's Beastly Behaviour.
John was the first winner of the AIB All Irelands Agility Dog award in 1990 with his German Shepherd dog "Rocky" and then went on to win two Irish Kennel Club Agility Dog of the Year Awards with his German Shepherd "Smokie". John & Stan were part of the Republic of Ireland World Agility Team 2011 and 2012 and came in third place against top dogs from 12 other countries.
By volunteering his time working in a rescue centre, he used his knowledge on dog training to assist rescue dogs become more adoptable. John and his family have been fostering dogs for a number of years. He has fostered, trained, walked and cared for many breeds and cross breeds.
Our training centre provides all year round training (directions on Locations page). Estuary Kennels in Swords, North Co. Dublin where we have indoor obedience training and outdoor agility training.
Our pilot socialisation scheme during the winter raised €1,024.80 that went to Dogs Aid Animal Sanctuary and €130.00 to the feral cats TNR fund. Thank you everyone for being so generous and to the volunteers who helped with this class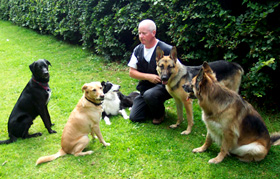 Feel free to contact us with any questions you may have.
Alternatively why not call into one of our training classes and chat with John in person? Directions can be found on our Locations page. (if calling in midweek please come between 6.30pm and 7.30pm)
Certified by The Dog Trainers Association of Ireland www.dtail.org
Listen to John's radio interview HERE on Dublin City FM
Blast from the past: Below is a newspaper clipping for John and Agility dog 'Rocky' who
took 1st in the AIB All Ireland Agility Competition in 1990, and another clipping for 'Smokey' who took Top Agility Dog award in 1998 (awarded by the Kennel Club).