We teach obedience to all levels of people, from those starting out with a new dog or puppy to advanced competitors.  See below for details of courses that we run.
PLEASE be realistic about your willingness and ability to working with your dog every day. Training your dog is an on-going process, not just 10 – 15mins when you think of it.
Beginner's Obedience
`Beginners Obedience Classes for adult dogs and puppies
Focus: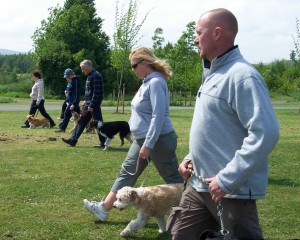 The focus of this dog training course will be on teaching the basic commands; sit, down, heel and come when called. Upon completion of this course the dog will be able to perform these skills on leash. This course will be the foundation for great obedience control. We take dogs from 16 weeks old.
This class is suitable for Puppies from 20 weeks.
Children over 12 years are welcome.
Note: All handlers must show proof of their dogs vaccinations when registering
Upcoming

Beginners Course Dates

 
 Tuesday 6th February 2018  (5 weeks)  7.30pm to 9pm  BOOKED OUT 
Wednesday 7th February 2018  (5 weeks)  7.30pm to 9pm  BOOKED OUT
We do hold a cancellation list for booked out classes
You will be required to arrive for registration a week prior to start date.  You will be contacted to confirm time of registration.
Fee  €130   (payable in full at registration)
NOTE: It is the participants responsibility to attend classes. We cannot transfer or refund unused classes. Classes must be completed within the course time frame as advertised.
PLEASE ONLY EMAIL OR CALL TO BOOK A PLACE, WE CANNOT TRACK TEXT OR FACEBOOK MESSAGES
For more information or to book a place, e-mail: info@dublindogtraining.ie or phone John on 086 730 1001
---
Good Citizen Dog Scheme
Good Citizen training takes place on Monday nights. Class is full at present. We can take note of your interest and contact you when a place becomes available
The Good Citizen dog scheme is a test procedure run by the Irish Kennel Club to help educate dog owners and and also to ensure that dogs are a respected part of the community. Completing this course will ensure your dog is well behaved in everyday situations such as walking on a lead, behaving calmly while you talk to another dog handler, lying down and staying on command and so on. You can read more about the scheme on the IKC website.
Please note: Applicants for this course must have completed the Beginners Obedience course. Below are some of the Dublin Dog Training dogs who were awarded the Good Citizen Award by the Irish Kennel Club.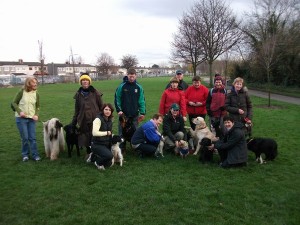 ---
Intermediate / Advanced / Competition Obedience
Focus: This course will expand on the obedience taught in Level 1. The focus of this course will be leading up to competition obedience. Advanced handling, teaching your dog to perform the basic tasks under distraction and eventually following commands to work off lead. Intermediate obedience will include training for entry into the Good Citizen Award presented by the Irish Kennel Club.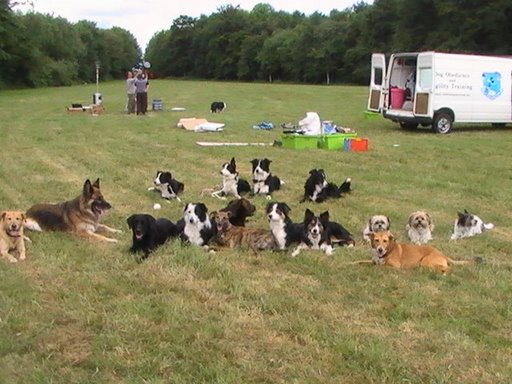 Sixteen very obedient dogs!
---