`Beginners Obedience Classes for adult dogs and puppies
Focus: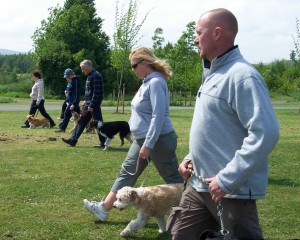 The focus of this dog training course will be on teaching the basic commands; sit, down, heel and come when called. Upon completion of this course the dog will be able to perform these skills on leash. This course will be the foundation for great obedience control. We take dogs from 16 weeks old.
This class is suitable for Puppies from 20 weeks.
Children over 12 years are welcome.
Note: All handlers must show proof of their dogs vaccinations when registering
Upcoming

Beginners Course Dates

 
 Tuesday 6th February 2018  (5 weeks)  7.30pm to 9pm  BOOKED OUT 
Wednesday 7th February 2018  (5 weeks)  7.30pm to 9pm  BOOKED OUT
NEW TRAING DATES FOR MAY WILL BE ANNOUNCED END OF APRIL
We do hold a cancellation list for booked out classes
You will be required to arrive for registration a week prior to start date.  You will be contacted to confirm time of registration.
Fee  €130   (payable in full at registration)
NOTE: It is the participants responsibility to attend classes. We cannot transfer or refund unused classes. Classes must be completed within the course time frame as advertised.
PLEASE ONLY EMAIL OR CALL TO BOOK A PLACE, WE CANNOT TRACK TEXT OR FACEBOOK MESSAGES
For more information or to book a place, e-mail: info@dublindogtraining.ie or phone John on 086 730 1001