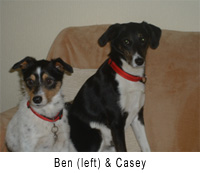 My name is Casey. I live with my little brother, Ben, and our pack leader as she likes to call herself when pulling rank, Eimer. We have lots of fun, going to the park and the beach but the highlight of our week is going to agility training with John in Malahide on Saturday afternoons. I love agility and so does Eimer .
I've seen all kinds of dogs coming to the class, some depressed, some wild, some timid and the one thing we all have in common is that we can relate to John and he gives us the confidence to improve our behaviour. Having said that, he's no pushover and doesn't take nonsense from us. The people who go the classes are all very nice and there's great craic every week. There's no sense of people not knowing each other, everyone gets on with it and they all praise each other when things go right. So it's a relaxing and fun way to spend our Saturday afternoons and the very best thing is that after the class all of us dogs run free together and have great sport before heading home. None of us ever get cross or snappy when we're playing together and the owners are always delighted to see a large pack of perfectly behaved dogs having fun.
Eimer and I are going to a few agility competitions this summer so we're working hard to be ready. We'd love to get a rosette but it doesn't really matter if we do or not. The main thing is that we're having a great time training and it's all thanks to John that we're having such fun and that we get such a sense of achievement when we do a good round.
— Casey, Ben & Eimer Lynch