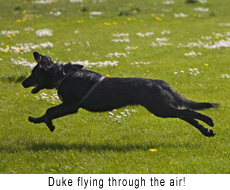 I started Obedience Dog Training in January with a rescued dog called" Duke" (lab/collie cross) who had no basic training and who was very timid and somewhat frightened of anything new. He was a year old.
As the training classes progressed "Duke" became more and more confident and he enjoyed being with the other dogs and socialising and John brought him on with his obedience skills over the 6 week course. Before commencing the classes he had to be lifted into the back of the car as he refused to jump in as he appeared to be frightened of the car, by the end of the training classes he was jumping in and out of the car without a problem. He had learned basic training and was somewhat easier on the lead than before and he would sit and stay, whereas before he know nothing about these basic training aids.
He is now doing Agility classes about twice a month (I am unable to go every week, which is a pity). On day one he just lay down in front of the jumps and refused to move, now he jumps over them with a spring in his step and he really enjoys the classes and the socialising with all the other dogs both before and after the class. He has a long way to go in agility as sometimes he forgets to concentrate and takes off around the field instead of following the course!
Agility is great fun and I would highly recommend the Saturday mornings as a learning curve for both dog and owner. John is very patient and has a great way with dogs in helping to encourage them to learn and in teaching the owners the basics of training dogs which is equally important.
I have attached a photo of Duke
— Ann Charleton